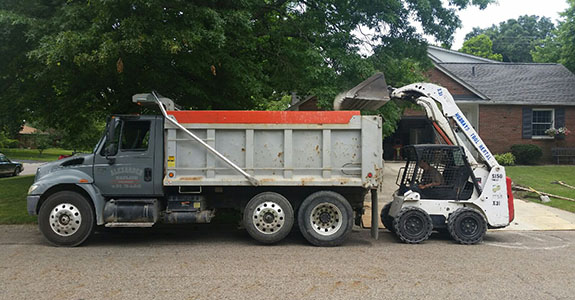 Premier Excavators for Your Neighborhood
When you need a delivery of mulch, soil or gravel for a major project, you need to know that you can rely on the delivery company to provide timely, affordable and friendly service. Fortunately, for customers who need material delivery or help from excavators in Columbus, Groveport, Blacklick Estates, Obetz, or Zimmer, OH, Alexander Hauling is up to the task. As a local, family-owned and operated business, we've been providing top-notch workmanship and outstanding customer service for a wide range of projects for years, and we're committed to doing whatever it takes to earn our customers' repeat business.
Since 1995, Alexander Hauling has been trusted excavators in Columbus, OH for all types of residential projects, from digging out soil for paver patio installation to providing sand and gravel delivery for landscaping, in-ground pool installation and more. Our trucks are smaller and lighter than the trucks you'll typically see on big commercial sites, which is why we're so well suited for residential projects. We can deliver up to 12 tons of material per truck, and our material options range from topsoil and Com-Til to mulch, sand, gravel and more. For over 20 years, our customers have enjoyed doing business with Alexander Hauling. Here are just a few reasons why:
We offer delivery of a variety of materials for residential projects.
We've been a local, family-owned and operated small business in Columbus, OH for over 20 years.
We're capable of delivering up to 12 tons of material per truck.
We also offer excavation services.
Our rates as excavators are affordable and transparent.
Quality assurance: Alexander Hauling is a local, family-owned and operated excavator, and we have been since our founding in 1995. We take pride in being able to offer our customers a high quality service for an affordable price, and we'll always treat you and your property with the utmost respect.
Residential specialty: Alexander Hauling specializes in material delivery for residential clients. Our trucks are able to haul up to 12 tons of material, but they're smaller and lighter than the dump trucks typically used on commercial sites, making them ideal for residential projects.
Excavation: If you're planning to install a paver patio, driveway or other hardscape-type project, Alexander Hauling has several Bobcat skid steers available to remove existing materials from your site. Similarly, if you need materials transferred from one area of your property to another—or to another site entirely—we can help with that.
If you're in the market for a delivery of Com-Til, topsoil, gravel or sand in Columbus, OH, we hope you'll trust the experienced team at Alexander Hauling with the job. To schedule a delivery or learn more about our services, please contact us today at 614-491-5460. We look forward to serving you!